Whether you're pushed for space or simply like to know where everything is, we have some perfect ideas to help you organise your kitchen. From clever tricks to help maximise cupboard and cabinet space to smart ways of utilising your kitchen's hidden storage potential – these inspiring tips will help make any kitchen perfectly organised. For more kitchen inspiration, check out our fitted kitchens page or kitchens gallery!
Use clear containers so you can see what and how much of each item you have. Even if you think you'll remember what's in each jar – using a paint pen will not only help you label them but add a bit of creative flare to the process too!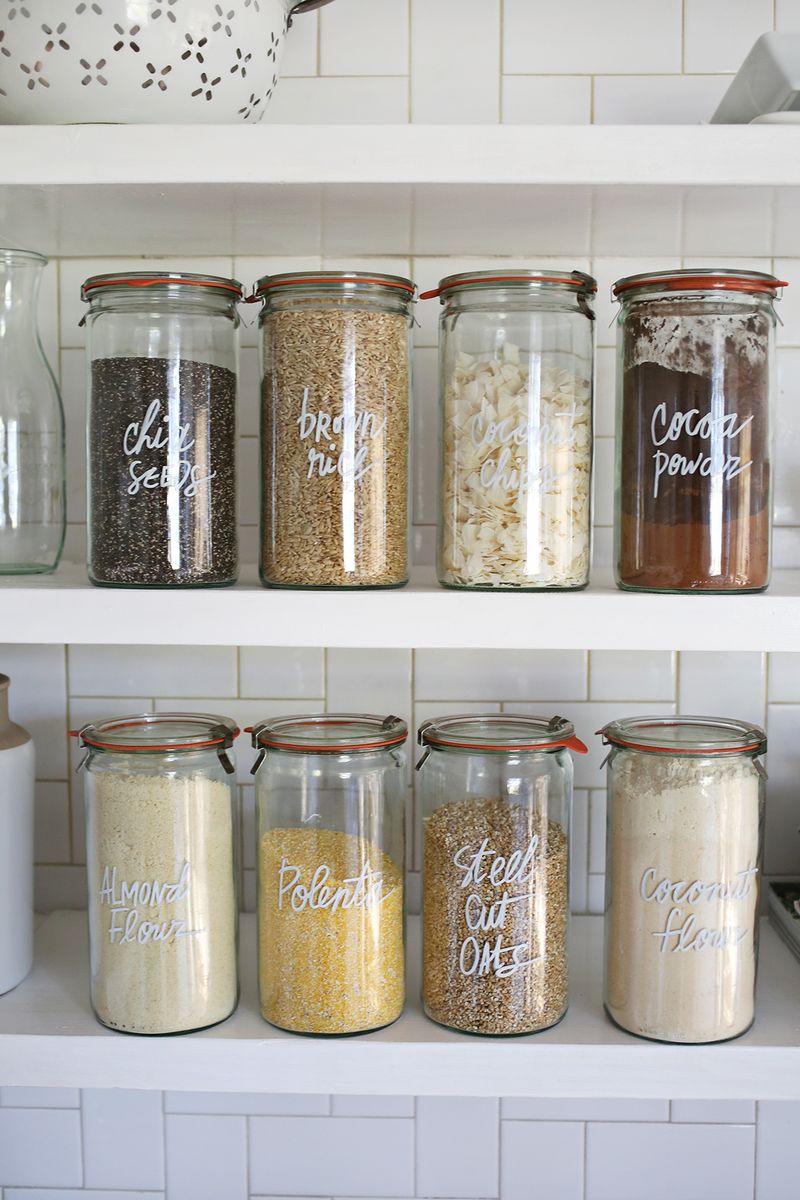 Compartmentalise drawers and cupboards to store baking trays and chopping boards in a more space efficient way:
There's lots of wasted space in your kitchen – and the end of cupboards and inside of cabinet doors are just two. Use these spaces to hang spices shelves and racks and maximise your cupboard space:
Running out of room in your kitchen cupboards? In a well-organised kitchen any space can be used as storage – including the ceiling! Make use of ceiling space with a hanging rack for your pots and pans:or give yourself extra produce storage with hanging baskets
In a kitchen with limited worktop space you don't want to clutter up the sides with decorative items you can't use. Instead of useless items why not create a pretty display out of your most used items:
Most people's kitchens are the heart of the home and will be where you cook, clean and eat! Why not use the back of a kitchen or pantry door as a 'command centre' for your family? With a lick of blackboard paint and a planner – you'll be organising the entire family – not just your kitchen!
Free up precious drawer space by using a magazine filer on the inside of a door to store cling film, tin foil and those other boxed items that take up room unnecessarily
Probably one of the most poorly utilised spaces in a kitchen is corner cupboards – normally these spaces are home to long forgotten colanders and pan lids. With a lazy susan installed where two cabinets meet – you can make excellent use of space for items you use all the time
Make using your kitchen easier by grouping like items – such as bakeware – together:
Keep your frequently used items and utensils accessible by arranging them in a decorative pot or container – practical and pretty!
Another space in every kitchen that tends to go to waste is shelving space. Luckily you can easily and cheaply pick up temporary shelves for your shelves so you can get the most out of your kitchen cupboards!
Adding a kitchen cart or island is a great way of freeing up cupboard space and organising your kitchen. Kitchen islands are great for smaller kitchens – giving you extra storage, work space and some can even double up as a bin!
Open shelves can look messy and unorganised but square baskets are a perfect addition to your kitchen to help you de-clutter and tidy up, whilst looking attractive too!
If you fancy a bit of DIY to help make your kitchen space work for you then why not install a peg board? You can hang almost anything on them from utensils and pans to chopping boards!
Let's not forget the lids to our pots and pans! A really efficient way of storing these is by using a plate rack – making it easy to organise by size and find what you need quickly!
Do you have any ingenious ideas for organising you kitchen? Why not let us know in a comment below or via social, by messaging or posting us a picture on Twitter or Facebook!